A Local Lineage Society - FFOB
First Families of Old Buncombe
Earlier this year I decided to join a lineage society for the first time. Like most deep-rooted Americans, I have ancestors who fought in the Civil War. While researching beyond those ancestors I ran across a "local" lineage society called the First Families of Old Buncombe.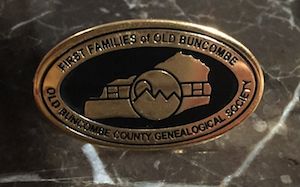 Old Buncombe refers to Buncombe County, North Carolina as it stood when it was formed in 1792.
The Old Buncombe County Genealogical Society administers the First Families of Old Buncombe lineage society.
To become a member in the FFOB society, applicants must prove a direct line relationship to a person who resided in the county between 1790 and 1800.
The qualifying ancestors would be someone listed in the area in 1790 or the Buncombe 1800 census, someone named as a founder in 1792, or someone proven to be living there before 1801.
Identifying a Qualifying Ancestor
When I decided to join the FFOB I was researching my ancestor James Roberts but could not find enough information about his birth or marriage. I have sources linking back to him, but I couldn't link my James Roberts definitively to a qualifying person. There were 8 men with the last name of Roberts, but James wasn't one of them, and so far, I had nothing to show he might have been a son of one of them.
As I read about some of those Buncombe County founders, I realized that I could qualify to one of them through James Roberts's wife Elizabeth Merrill Roberts. Elizabeth was a daughter of John Merrill who appears on the 1800 Census for Buncombe County.
John Merrill's will was right there on the OBCGS website naming his daughter, Elizabeth Roberts, along with his other children whose names were familiar to me.
Not only was John Merrill (Merrell or Meril) a resident of Buncombe County at its formation, he was also a Revolutionary War soldier. Before I knew he was my ancestor, I had read about his famous family, which I'll tell you more about in my next post.
In case you might be a cousin, here is my qualifying line:
John Merrill (wife Catharine)
Elizabeth Merrill married James Roberts (aka Dick Roberts)
Sarah Catherine Roberts married Eli Rhodes
Mary Rhodes married G W Lyda
Thomas C Rhodes married Mary Maxwell
Lee Edward Rhodes married Edith Rhodes - my grandparents
If you're a cousin of mine, or you have ties to Old Buncombe, feel free to contact me for more details, or visit the OBCGS website.